"If Music Be
the Food of Love...
Sing On"
» The Sounds Sublime site is undergoing extensive upgrades. Now fully compliant with W3C standards, it will render correctly in a variety of browsers, and is faster-loading.
» The Sounds Sublime forum has been completely revamped. Join up to give your feedback or to ask questions.
» Sounds Sublime are currently working on recording another album. Watch this space for news.
Hire Sounds Sublime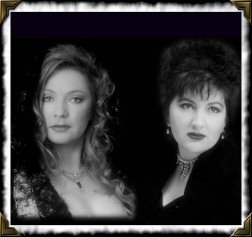 For all occasions requiring a special quality of elegance or a touch of something magical, hire Sounds Sublime to provide the perfect music. Whether it's a corporate or personal concert performance, the charm and delight of the perfect Sounds Sublime blend will add exactly the right music.
Hire Sounds Sublime as a duet ensemble with accompaniment (piano, classical guitar, string orchestra or other, depending upon your projected venue and budget), or hire Ingrid Heyn or Katrena Mitchell as a soloist.
You choose the songs, the duration, the style... or leave the choice to Sounds Sublime.
Book now for the right music for any of the following: Concerts, operatic roles, corporate functions, &c.
For further information about hiring, please feel free to contact Sounds Sublime.
General conditions of hire - download pdf.