"If Music Be
the Food of Love...
Sing On"
» The Sounds Sublime site is undergoing extensive upgrades. Now fully compliant with W3C standards, it will render correctly in a variety of browsers, and is faster-loading.
» The Sounds Sublime forum has been completely revamped. Join up to give your feedback or to ask questions.
» Sounds Sublime are currently working on recording another album. Watch this space for news.
Concerts with Sounds Sublime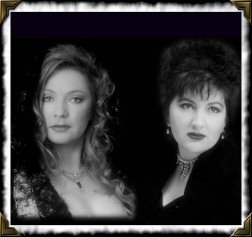 Often, organising a concert can involve the organiser in more work than he or she envisaged. Sounds Sublime understands the workload, and you can safely leave the organisation of the performance pieces to them, knowing that the result will be a carefully balanced programme of delightful vocal music, chosen to provide maximum contrast and enjoyment for the audience.
The degree of choice about what is sung is up to you. Whether you want your input in repertoire to be minimal or maximised, a concert with Sounds Sublime is always designed to please you. Hire Sounds Sublime as an ensemble, or hire either singer separately, as suits the programme you have in mind.
Minimally, you let Sounds Sublime know the concert duration (usually 1½ to 2 hours, although it can be shorter or longer), the general style of music you want, where and when the concert is to be, whether you're providing an accompanist or orchestra (or whether you want Sounds Sublime to take care of organising that for you) - and that's it. You can concentrate on organising the event without having to worry about organising the actual performance.
Maximally, you decide upon each item, source the sheet music or scores, get the music to Sounds Sublime and accompanist/orchestra for sufficient rehearsal time, organise a venue for rehearsals, take care of where and when the concert will be, and you will have a concert specifically designed by you to your exact taste.
Sounds Sublime's flexible approach ensures that your input is what you want it to be, and the performance will be tailored to please and within your budget requirements.
To make repertoire choice easier, choose from Sound Sublime's, Ingrid Heyn's and/or Katrena Mitchell's existing repertoire - or request titles not listed. Sounds Sublime is always happy to tackle new music.
For the perfectly performed concert, book Sounds Sublime - make an inquiry now.