"If Music Be
the Food of Love...
Sing On"
» The Sounds Sublime site is undergoing extensive upgrades. Now fully compliant with W3C standards, it will render correctly in a variety of browsers, and is faster-loading.
» The Sounds Sublime forum has been completely revamped. Join up to give your feedback or to ask questions.
» Sounds Sublime are currently working on recording another album. Watch this space for news.
Corporate functions enhanced by Sounds Sublime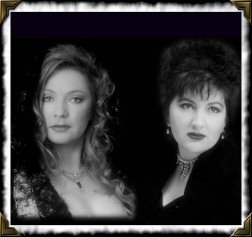 Corporate Functions can gain a very special touch by utilising Sounds Sublime. You can choose a theme to subtly convey your corporate goals to your guests by careful selection of vocal music - and the well-known effects of classical music upon the human mind can only be of benefit while providing superb entertainment.
The entire Sounds Sublime experience is one of elegance and charm, and is certain to put your guests into a relaxed yet alert frame of mind.
Take a look through Sounds Sublime's, Ingrid Heyn's and/or Katrena Mitchell's repertoire list for help in choosing material, or ask for specific songs not included. Sounds Sublime is always happy to tackle new vocal music. Let Sounds Sublime know what sort of performance you have in mind - their expert knowledge makes it easy for them to put together the perfect programme for your guests.
You can make an enquiry about booking Sounds Sublime, Ingrid Heyn or Katrena Mitchell for your corporate function now. Cost varies according to the repertoire and requirements, so be sure to include details when asking for a quotation. (You can also contact the singers by phone.)