"If Music Be
the Food of Love...
Sing On"
» The Sounds Sublime site is undergoing extensive upgrades. Now fully compliant with W3C standards, it will render correctly in a variety of browsers, and is faster-loading.
» The Sounds Sublime forum has been completely revamped. Join up to give your feedback or to ask questions.
» Sounds Sublime are currently working on recording another album. Watch this space for news.
Operatic Roles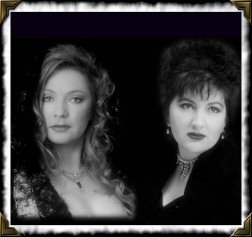 There are so many gorgeous soprano roles in opera... and both Ingrid Heyn and Katrena Mitchell are happy to learn new roles or to perform roles already in their repertoire.
Ingrid Heyn's voice type encompasses most Mozart (and similar) soprano roles (including lyric and coloratura), any coloratura role and many pure lyric roles (some Verdi included, such as Violetta). Repertoire from baroque to twentieth century can be encompassed.
Katrena Mitchell's voice type encompasses the Mozart (and similar) lyric soprano roles, many pure lyric roles with coloratura aspects and some spinto roles (including Verdi). Repertoire ranges from baroque to early twentieth century.
There is a special satisfaction in performing roles in their entirety, rather than extracts from operas. Please get in touch with Ingrid if you wish to discuss operatic roles with her, or with Katrena if you'd like to discuss operatic roles with her. (You can also contact the singers by phone.) All operatic roles are considered, subject to suitability for voice type.
Fees can be discussed with the singers upon contacting them.