"If Music Be
the Food of Love...
Sing On"
» The Sounds Sublime site is undergoing extensive upgrades. Now fully compliant with W3C standards, it will render correctly in a variety of browsers, and is faster-loading.
» The Sounds Sublime forum has been completely revamped. Join up to give your feedback or to ask questions.
» Sounds Sublime are currently working on recording another album. Watch this space for news.
Katrena Mitchell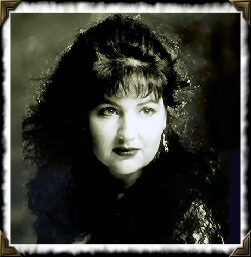 Vocal range: G3 to F6 (almost three octaves).
Katrena Mitchell possesses an unusual and beautiful timbre - a true soprano voice but with a dark and transparent quality that is naturally plangent. Because of its dark colour, her voice is sometimes mistaken for that of a mezzo-soprano, but the high range of her voice and the ease of the upper notes, as well as the comfort zone for her voice, make it clear that her tessitura is soprano.
Her voice lends itself to more dramatic lyric roles, yet is perfectly adept in bel canto and early music. Her coloratura has become well practised in tackling the death-defying intricacies of some of Mozart's more staggering soprano-soprano duets and the entire œuvre of Renaissance and baroque masterpieces written for equal voice of superb vocal control.
Italian Arias
Bellini
La sonnambula – Ah! non credea mirarti … An non giunge
Norma – Casta diva ; duet with Adalgisa (She has sung both Norma and Adalgisa)
I Capuleti ed i Montecchi - Eccomi ... Oh quante volte
Bianca e Fernando – Sorgi, o padre
Boito
Mefistofele – L'altra notte in fond al mare
Catalani
La Wally – Ebben! Ne andro lontana
Cilea
Adriana Lecouvreur – Io son l'imile ancella ; Poveri fiori
Donizetti
Lucia di Lammermoor – Regnava nel silenzio
Anna Bolena – duet scene between Anna and Giovanna
Giordano
Andrea Chenier – La mamma morta
Handel
Giulio Cesare – Cleopatra's and Sesto's arias
Alcina – Alcina's arias ;
Rinaldo - Cara sposa ; Lascia ch'io pianga
Serse - Ombra mai fu ; Va godendo
Further arias and duets from various operas
Mascagni
Cavalleria Rusticana – Voi lo sapete oh mama
Mozart
Le Nozze di Figaro - the role of Countess Almaviva ; Susanna's and Cherubino's arias
Mitridate re di Ponte – Sifare / Aspasia duet
Così fan tutte - Despina & Fiordiligi's duets ; Fiordiligi's arias
Don Giovanni - The role of Donna Elvira ; Donna Anna's & Zerlina's arias
Idomeneo - Ilia's arias & Elettra's arias
Il Re Pastore (Most of the soprano arias & duets for both Aminta & Elisa)
Die Entfuhrung as dem Serail – Constanza's arias
Lucio Silla – Pupille amate
La Clemenza di Tito – Saltro che lagrime ; Parto ; Vitellia's arias
Mozart concert arias – Ah lo privedi
Ponchielli
Gioconda – Suicidio
Puccini
La Bohème – Si, mi chiamano Mimi ; Donde lieta ; Quando men vo
Manon Lescaut - In quelle trine morbide
Gianni Schicchi - O mio babbino caro
Turandot - Signore, ascolta! ; Tu che di gel sei chinta ; In questa reggia
Tosca - Vissi d'Arte
La Rondine – Che il bel sogno di Doretta
Rossini
Il Barbiere di Siviglia - Una voce poco fà
L'Assedio di Corinto - Giusto ciel!
Semiramide - Bel raggio ; duets between Semiramide and Arsace
Guillaume Tell – Selva opaca
Verdi
La Traviata – Labiamo (Brindisi) ; Ah, forse e lui ; Addio del passato
Rigoletto - Quartet
Un ballo in maschera - Morro, ma prima in grazia ; Ecco l'orrido campo
Otello – Piangea cantando (Willow song) ; Ave Maria
Il Trovatore - Tacea la notte placida ; Timor di me?…D'amour sull'ali rosee
Don Carlo – Tu che le vanita ; Eboli's aria
Ernarni – Surta è la notte… Ernani! Ernani, involami
I Vespri Siciliani – Mercé, dilette amiche (Bolero)
La Forza del destino – Madre, pietosa Vergine ; Pace, pace, mio Dio ; Monastery scene
Vivaldi
Il Bajazet - Sposa son disprezzata
Echo aria
Various other arias and duets from both opera and sacred works
French Operatic Repertoire
Bizet
Carmen – Micaëla's aria ; Card scene
The Pearlfishers – Comme autrefois (Leila's aria)
Charpentier
Louise – Depuis le jour
Delibes
Lakmè – Flower duet
Gluck
Alceste – Divinites du Styx
Iphigénie en Tauride – O malheureuse Iphigénie!
Orphée et Eurydice – J'ai perdu mon Eurydice (Che faro senza Euridice)
Gounod
Faust – Jewel song ; King of Tule
Massenet
Le Cid – Pleurez, mes yeux
Hérodiade – Il est doux, il est bon
Thaïs – Te souvient-il (closing duet)
Offenbach
Les Contes d'Hoffmann – Elle a fui ; Belle nuit (Barcarolle) ; Doll Song
German Operatic Repertoire
Korngold
Die tote Stadt – Glück, das mir verblieb
Mozart
Die Entführung aus dem Serail – Konstanze's arias
Zaide - Ruhe sanft
Die Zauberflöte - Erste Dame ; Parmina's arias
Richard Strauss
Capriccio – Kein andern (Countess' aria)
Der Rosenkavalier – Trio Marschallin, Octavian & Sophie
Wagner
Lohengrin – Elsa's Traum & other excerpts from the role
Tannhäuser – Excerpts from the role of Venus
Weber
Der Freischütz – Agathe's arias
Other Operatic Repertoire
Borodin
Prince Igor – Yaroslavna's Lament
Dvorak
Rusalka – Rusalka's role, Act I (in Czech ) including "Song to the moon"
Prokofiev
War and Peace (Prokofiev) – Duet
Tchaikovsky
Eugene Onegin – Opening duet
Iolantha - Iolantha's role
German Lieder
Songs by Hugo Wolf, Schubert, Brahms, Mendelssohn, Schumann, Richard Strauss, Mozart.
French Songs
Chansons et mèlodies by Duparc, Fauré, Chausson, Liszt, Debussy, Ravel, Delibes, Satie.
Spanish Songs
Songs by Obradors, Manuel de Falla, Rodrigo, Granados.
English Songs
Songs by William Walton, Benjamin Britten, Michael Head, Vaughan Williams, Armstrong Gibbs, Ivor Gurney, Morley, Dowland, Purcell, Roger Quilter.
Italian Songs
Various songs by Bellini, Donizetti, Rossini, Puccini, Arditi and Verdi.
Russian & Czechoslovakian Songs
Songs by Rachmaninoff, Tchaikovsky, Dvorak, Dvorak, Rimsky-Korsakov.
Oratorios, Cantatas, Passions, Motets
Bach
Arias from St. John Passion
Arias from St. Matthew Passion
Arias from various cantatas
Handel
Excerpts from Joshua, Messiah, Samson, Deborah and other works.
Mozart
Motet. Exsultate, jubilate
Arias and duets from various masses and the Requiem.
Verdi
Requiem
Vivaldi
Excerpts from the cantatas
Operetta
Lehar
Arias and duets from The Merry Widow, Der Zarewitsch and Paganini
Johann Strauss
The arias and duets for both sopranos from Die Fledermaus
Excerpts from the role of Saffi from Der Zigeunerbaron incl. So elend und so treu...O habe acht
Stolz
Du sollst der Kaiser meiner Seele sein from Der Favorit
Suppé
Hab' ich nur deine Liebe from Boccaccio
Millöcker
Ich schenk mein Herz from Die Dubarry
Zeller
Schenkt man sich Rosen in Tirol from
Der Vogelhändler
)
Sei nicht bös from
Der Obersteiger
)
Offenbach
Songs from La Périchole
The role of Venus from Orpheus in the Underworld
Musical Comedy, etc.
Excerpts from shows by George Gershwin, Cole Porter, Irving Berlin, Jerome Kern, Noel Coward, Bernstein, Richard Rodgers.
Early Music
Songs, duets and madrigals by Monteverdi, Purcell, Dowland, Handel, Luzzaschi, Vivaldi, Alessandro Scarlatti, Couperin, Pergolesi, Martini, Caccini as well as arie antiche by other composers.