"If Music Be
the Food of Love...
Sing On"
» The Sounds Sublime site is undergoing extensive upgrades. Now fully compliant with W3C standards, it will render correctly in a variety of browsers, and is faster-loading.
» The Sounds Sublime forum has been completely revamped. Join up to give your feedback or to ask questions.
» Sounds Sublime are currently working on recording another album. Watch this space for news.
Sounds Sublime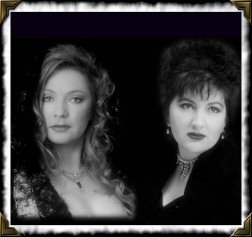 The body of music available for two sopranos to sing is astonishingly rich and varied. The duets include some of the most beautiful music in the world, and indeed some of the most famous. Perhaps the most well-known of all is the "Flower Duet" (Sur le dôme épais) from Delibes' opera Lakmè. Spectacular operatic duets include those brought to a wide audience by the concerts performed by Joan Sutherland and Marilyn Horne - the famous "Norma" duet (Mira, o Norma, a' tuoi ginocchi - from Bellini's Norma), and the equally stunning duet (Dio, che mi vedi...Va, infelice) between Anna Bolena and Giovanna Seymour from the opera Anna Bolena by Donizetti.
But this is only the tip of the iceberg. Vast reservoires of exceptionally fine music abound in the baroque repertoire, and there are further marvellous treasures from the Classical and Romantic periods. Virtually every great composer wrote astonishingly beautiful or outstandingly powerful music for two soprano voices, and the list below shows a substantial representation of the Sounds Sublime repertoire.
Operatic Duets
Italian Operatic Duets
Gioacchino Rossini
Vorrei, che il tuo pensiero (Otello)
Sereni qui di pace in seno (Le Comte Ory)
T'inoltra (Elisabetta, regina d'Inghilterra)
Tutto sorride intorno (Moïse)
Serbami ognor (Semiramide)
Ebben, a te, ferisci! (Semiramide)
Al tuo commando, Regina (Semiramide)
Vincenzo Bellini
Sorgi, o padre (Bianca e Fernando)
Deh! Con te li prendi... Mira, o Norma, a' tuoi ginocchi (Norma)
Vieni, ah vieni (I Capuleti e i Montecchi)
Angiol di pace (arr.) (Beatrice di Tenda)
Si, fuggire! (I Capuletti e i Montecchi)
Gaetano Donizetti
Dio, che mi vedi...Va, infelice (Anna Bolena)
Che mai dite (L'Eremitaggio di Liwerpool)
Primiera io giungo.. Si, son io... (Rosmonda d'Inghilterra)
Dovè t'inoltri? (Rosmonda d'Inghilterra)
Duet (Elisabetta, regina d'Inghilterra)
Ines ma douce soeur (Maria Padilla)
Giacomo Meyerbeer
In pria che la vendetta (L'Africana)
Carlo Coccia
Perchè non ho del vento (Rosmonda)
Giuseppe Verdi
Nel cangiar di sorte infida (Oberto)
Wolfgang Amadeus Mozart
Vanne, vanne regnar ben mio (Lucio Silla)
Se viver non degg'io (Mitridate)
Se viver non degg'io (Mitridate) 2nd duet
D'Eliso in sen m'attendi (Il Re Pastore)
Sull'aria (Letter duet) (Le Nozze di Figaro)
A prite, presto, a prite (Le Nozze di Figaro)
Via reste a servita (Le Nozze di Figaro)
Ah, guarda, sorella (Così fan tutte)
Prenderò quel brunettino (Così fan tutte)
Come ti piace, imponi (La clemenza di Tito)
Deh, prendi un dolce amplesso (La clemenza di Tito)
Ah, perdona al primo affetto (La clemenza di Tito)
Spiegarti non poss'io (Idomeneo)
S'io non moro a questi accenti (Idomeneo)
Natus cadit (Apollo et Hyacinthus)
Giovanni Paësiello
Quando lo stral spezzai (La libertà a Nice)
Amilcare Ponchielli
Gioconda. E un anatèma (Gioconda)
Giacomo Puccini
Tutto sia pien di fior (Madama Butterfly)
French Operatic Duets
Leo Delibes
The Flower Duet (Lakmè)
Jules Massenet
Parséis! O ma soeur (Esclarmonde)
A deux genoux (Cendrillon)
Toi quim'es apparae (Cendrillon)
Aimer! (Le Cid)
Jacques-François-Fromental-Élie Halévy
Qui t'amène? (La Juive)
Gaspare Spontini
N'auriez-vous d'une mère (Olympie)
German Operatic Duets
Richard Strauss
Aber der Richtige (Arabella)
O Gold! (Die Liebe der Danae)
Presentation of the Rose (Der Rosenkavalier)
Carl Maria von Weber
Schlem, halt' fest! (Der Freischutz)
Unter ist mein Stern gegangen (Euryanthe)
O welches Glück! (Oberon)
Otto Nicolai
Nein, das ist wirklich... (Die lustigen Weiber von Windsor)
Engelbert Humperdinck
Ein Männlein...Gretel, ich weil (Hänsel & Gretel)
Abends will ich schlafen gehen (Hänsel & Gretel)
Der kleine Taumann..Wo bin ich? (Hänsel & Gretel)
Mir ist so wohl...Bleib stehn! (Hänsel & Gretel)
Ludwig von Beethoven
Un in der Ehe froh zu leben (Fidelio)
Wolfgang Amadeus Mozart
Wohl uns! (Acis und Galatea - Handel/Mozart)
Geh' hin! Dein Trotz soll mich nicht ... (Bastien & Bastienne)
Geh! Herz von Flandern! (Bastien & Bastienne)
Sacred Duets from the operatic composers &c
Gioacchino Rossini
Qiu est homo (Stabat mater)
Qui tollis peccata (Stabat mater)
Antonin Dvorak
Fac ut portem Christi mortem (Stabat mater)
Giuseppe Verdi
Agnus Dei (Requiem)
Recordare, Jesu pie (Requiem)
Jean-Baptiste Fauré
Crucifix
César Franck
Panis angelicus arr.
Wolfgang Amadeus Mozart
Domine Deus (C minor Mass)
Sub tuum praesidium
Sorgi, o Signore (Davide penitente)
Ave verum, arr.
Non-Operatic Duets from the Classical period
Louis Spohr
Abendlied
Cantata op.98. God Thou art great. Children, pray this love to cherish
Ermunterung
Frühlingslied
Das Herz
Jenseits
The last judgement. Foresake me not
Liebe
Liebesfragen
Mein Heimathland
Ruhe
Sonntagsfrühe
Wechselgesang
Antonio Sacchini
Valli opache
Joseph Haydn
Guarda qui che lo vedrai
Kantata in G. Grand'Erore
Saper vorrai se m'ami
Thomas Linley
Anthem. Let God arise. He is a father
Shakespeare ode. For who can wield
Song of Moses. Jehova ever be my song
Song of Moses. Thither Thy people, Lord, shalt Thou direct
Johann Christian Bach
Io lo so
Baroque Opera Duets
Jacopo Peri
Inten'omai, voi che feliche ardente
Intenerite voi, lacrime mie
Alessandro Scarlatti
Non sei quella (Griselda)
Per far bella (La Maddalena)
Io sento nel core (La Caduta de' Decemviri)
S'io son schernito (La Caduta de' Decemviri)
Si, si vendetta (La Caduta de' Decemviri)
Trionfi del l'amor (La Caduta de' Decemviri)
Ancora il sen palpita (Eraclea)
Damiro mi piace (Eraclea)
Morir per te desio (Eraclea)
Poco chiede la tua fede (Eraclea)
Quando è d'amor l'errore (Eraclea)
Claudio Monteverdi
Pur ti miro (L'incoronazione di Poppea)
Antonio Vivaldi
Io sento nel petto (Farnace)
Ne giorni tuoi felice (L'Olimpiade)
In braccio (Giustino)
Mio bel tesoro (Giustino)
L'ombre l'aure e ancora il rio (Ottono in Villa)
Christoph Willibald Gluck
Deh l'accetta / Tu lo serva (La Corona)
Dans un jour de triumphe (Armide)
Deh l'accetta (Atalanta)
Non lontana (Paride ed Elena)
Fingere liu non so (Paride ed Elena)
Ma… chi sei? (Paride ed Elena)
Domenico Cimarosa
Lasciami per pietà (Gli Orazi e i Curiazi)
Carl Heinrich Graun
Ah sol per te, ben mio (Montezuma)
Reinhard Keiser
Fahret wohl (Adonis)
Freundliche Liebe… Feindliche Liebe (Croesus)
George Frideric Handel
Placa l'alma (Alessandro)
O what pleasures (Alexander Balus)
Prendi da questa mano (Ariodante)
Se rinasce nel mio cor (Ariodante)
Bramo avver mille vite (Ariodante)
Vado e vivo (Faramondo)
Caro, cara (Faramondo)
From this dread scene (Judas Maccabaeus)
Come, ever smiling libery (Judas Maccabaeus)
Per te, mio dolce bene (Il Pastor Fido)
Caro / Cara (Il Pastor Fido)
Se teco vive il cor (Radamisto)
Non ho più affanni (Radamisto)
Scherzano sul tuo volto (Rinaldo)
Fermati! - No, crudel! (Rinaldo)
Duet at end of act II (Rodelinda)
Prendi l'alma e prendi il core (Rodrigo)
Troppo oltraggi la mia fede (Serse)
Per le porte del tormento (Sosarme)
Vivo in te, mio caro bene! (Tamerlano)
Addio! mio caro bene (Teseo)
Cara / caro, ti dono in pegno il cor (Teseo)
Unito à un puro affetto (Teseo)
Se il cor ti perde, oh cara / caro (Tolomeo)
Tutto contento (Tolomeo)
Il voller nell fiore (Il Trionfo del Tempo e del Disinganno)
Giovanni Battista Pergolesi
Ne' giorni tuoi felici (Olimpiade)
Giovanni Battista Bononcini
Sol per te s'amai le pene (Erminia)
Jean Baptiste Lully
Tout doit céder dans l'univers (Armide)
Jean-Philippe Rameau
Que voisje, ô ciel! (La Guirlande)
Je vous revois (La Guirlande)
Early Music Duets
Italian & Latin Duets & Madrigals, &c
Domenico Visconti
Lacrime, perchè vi versate?
Giovanni Valentini
Deus, qui pro redemptione mundi
Regina caeli
Vanne, o carta amorosa
Francesco Turini
Dove, ah, dove ten vai
Perchè piangi, pastore?
Giovanni Felice Sances
Domine, ne memineris (motet)
Jubilent in caelis (motet)
Judica me, Deus (motet)
Laudemus viros gloriosos (motet)
Occhi sfere vivaci
Psallite Domino (motet)
Salvum me fac (motet)
Tota pulchra es (motet)
Vulnerasti cor meum (motet)
Galeazzo Sabbatini
Ohimè, misera, io canto
Udite o selve
Jean-Jacques Rousseau
Tendre fruit des pleurs d'Aurore
Giovanni Rovetta
Chi vuol haver felice e lieto il core
O quante volte
O Rubella, Rubella d'Amor
Antonio Lotti
Amor, che spera
Cambio de' cuori
Crudeltà rimproverata
Funerale della speranza
Giuramento amoroso
Lontanaza insopportabile
Patimento in Amore
Querèla amorosa
Scherzo d'amore
Supplica ad Amore
Alessandro Grandi
Nulla più vago miro
O chiome erranti
O come è gran martire
Rose, rose beate
Spine care e soavi
Udite lagrimosi spirti
Girolamo Frescobaldi
Aria a due canti ovvero tenori. Occhi she sete
Canto a due canti ovvero tenori. Begli occhi io non provo
Canzona a due tenori. Soffrir non posso l'affano del cor
Canzona a due voci: canto e tenore. Gioite o selve
Ceccona a due tenori. Deh, vien da ma pastorella
Madrigale a due tenori. Bella tiranna infida
Madrigale a due voci. Se m'amate, io v'adoro
Agostino Steffani
Bel' occhi, oh Dio, non più
Che sara' di quel pensiero
Dolce è per voi soffrire
E così mi compatite?
E perché non m'uccidete
Occhi belli, non piu
Pri ch'io faccia altrui palese
Quanto care a; cor voi siete
Ravvediti, mio core
Ribellatevi, o pensieri
Saldi marmi, che coprite
Su, ferisci, alato arciero
Tassilone. Laltero cimento
Vorrei dire un non so che
Sigismondo D'India
La mia Filli crudel
Alla guerra d'amore
Argo non mai
O leggiadri occhi
Ardo, lassa, o non ardo?
Argo non mai
Chi nudrisce tua speme, cor mio
Dove potrò mai gir tanto lontano
Ecco Filli mia Bella
Fresche erbette novelle
Langue al vostro languir
Occhi della mia vita
Porto celato il mio nobil pensiero
Su, su, prendi la cetra
Voi baciatrici
George Frideric Handel: Chamber Duets
A mirarvi io son intento
Ahi, nelle sorte umane
Amor gioie mi porge
Caro autor
Conservate raddoppiate
Langue, geme
No, di voi non vo' fidarmi
No, di voi non vo' fidarmi
Quel fior che all' albo ride
Se tu non lasci amore
Sono liete fortunate
Tanti strali al semmi scocchi
Troppo cruda
Và, speme infida pur
Marc-Antoine Charpentier
Beate mie pene
Hei mihi inflrx Magdalena! (Le Reniement de St-Pierre)
Superbo amore
Giacomo Carissimi
Oh! se mai di quell'arsura
Peregrin d'ignote sponde
Barbara Strozzi
La vittoria
Al battitor di bronzo della sua crudellissima Dama. Quante volte ti bacio
Canto di bella Bocca. Che dolce udire
Dialogo in partenza. Anima del mio core
Sonetto Proemio dell'opera. Mercé di voi, mia fortunata stella
Franceso Manelli
Ti lascio empia, incostante
Luigi Rossi
Occhi miei
Occhi belli
Ai sospiri, al dolore
A chi vive
Ahi, dunquè pur vero
O biondo tesori
Luci belle, mio tesoro
A te, mio core, a te
Poichè mancò speranza
Si o no, dissi al mio core
Speranza, al tuo pallore
Salamone Rossi
Ghiaccio e foco nell'amada. Volò ne'tuoi begli scchi
Ho sì nell'alma impresso
Non è quest'il ben mio
Stagioni contrarie alla sua ninfa. Riede la primavera
Vo' fuggir lontan da te
Luzzascho Luzzaschi
Stral pungente
Deh vieni ormai
Cor mio deh non languire
I' mi son giovinetta
François Couperin
Leçons de Tenebres
Quatre Versets du Motet
Tabescere me fecit
Ignitum eloquium
Adolescentulus sum ego
Justitia tua
Magnificat anima mea
Laetentur coeli et exultet terra (Motet de St. B)
Victoria Christo resurgenti (Motet p. le jour de Pâques)
Regina coeli laetare, Alleluia
Venite exultemus Domino
Elévation: Lauda Sion salvatorem
Louis-Nicolas Clérambault
Ante thronum trinitatis
Hodie Christus natus est
Dietrich Buxtehude
Jesu dulcis memoria
Laudate, pueri
O lux beata, trinitas
Salve Jesu
Antonio Caldara
Caro mea vere est cibus
André Campara
Cantate Domino canticum novum
Giacomo Carissimi
Ahi, non torna
Anima nostra
Exulta, gaude, filia Sion
Hic dum floret nobis (Historia di Baltazar)
Historia Ionae
Hodie Simon Petrus
Hymnum jucunditatis
Incipite in tympanis (Jephte)
Surgite, mortui (Judicium Extremum)
Laudemus virum gloriosum
O dulcissimum Mariae nomen
O ogris sancte
Oh!, se mai di quell'arsura
Girlandata di rose (Oratorio della Ssma Vergine)
Peregrin d'ignote sponde
Vanitas vanitatum
Pietro Antonio Cesti
Disperato morirò
Lacrime mie
Quante volte giurai
Francesco Manelli
Ti lascio empia, in constante
Antonio Marastone
Armato il cor
Marco Marazzoli
Dell'aurora dai dardi lucenti
Benedetto Marcello
Ecco il petto
François Martin
Notum fecit Dominus
Anerio Notari
Intemerite, lagrime
Claudio Monteverdi
Libro Nono: Bel pastor
Libro Nono: Se vittorie si belle
Libro Nono: Ardo
Libro Nono: O sia tranquillo il mare
Libro Nono: O come vaghi
Libro Ottavo: Armato il cor
Libro Ottavo: Mentre vaga Angioletta
Libro Settimo: Non è di gentil core
Libro Settimo: O come sei gentile
Libro Settimo: Io son pur vezzosetta
Libro Settimo: O viva fiamma
Libro Settimo: Dice la mia bellissima Licori
Libro Settimo: Ah, che non si conviene
Libro Settimo: Non vedrò mai le stelle
Libro Settimo: Ecco vicine o bella Tigre
Libro Settimo: Perché fuggi
Libro Settimo: Tornate
Libro Settimo: Soave libertate
Libro Settimo: Interrotte speranze
Libro Settimo: Ohimè dove il mio ben
Libro Settimo: Chiome d'oro
O beatae viae
Sancta Maria
O bone Jesu
Venite, venite
Fugge, fugge anima mea
Vorrei baciarti
Salve Regina (Selva morale e spirituale, 1640)
Antonio Vivaldi
Laudate pueri Dominum RV 602. Sicut erat in principio
Laudate pueri Dominum RV 602. Suscitans a terra
Dixit Dominus RV 594. Virgam virtutis tuae
Dixit Dominus RV 595. Tecum principium
Gloria RV 588. Laudamus te
Gloria RV 589. Laudamus te
Beatus Vir RV 597. Gloria et divitiae
Magnificat RV 610/611. Esurientes
Credo RV 592. Crucifixus
Nicola Porpora
Duetti sacri per la Quaresima. Crimen Adae
Duetti sacri per la Quaresima. Rigate lacrimis
Duetti sacri per la Quaresima. Martis causa
Duetti sacri per la Quaresima. In hoc vexillo crucis
Duetti sacri per la Quaresima. Ab imo pectore
Francesco Turini
Dove, ah, dove ten vai
Perchè piangi, pastore?
English Baroque Duets
Henry Purcell
Sound the trumpet (Come ye Sons of Art)
Two daughters of this aged stream (King Arthur)
O dive custos (Elegy on the Death of Queen Mary)
Sing ye druids (Bonduca)
Resistance is but vain (The Maid's Last Prayer)
In vain the am'rous flute (Hail, bright Cecilia)
Hark, how the songsters (Timon of Athens)
Oh the sweet delights of love (Dioclesian)
Shepherd, shepherd, leave decoying (King Arthur)
The gate to bliss (Theodosius or The Force of Love)
Love, thou art best (The Female Virtuosos)
We the spirits of the air (The Indian Queen)
Let Caesar and Uranua live (Sound the Trumpet, beat the Drum)
Britain now (Odes for Queen Mary's birthday)
Many such days may she behold (Odes for Queen Mary's birthday 1692)
Psalm 99. The Lord is King
Psalm 117. O praise the Lord
Welcome song 1684. Not with a helmet
Welcome song 1686. Happy in a mutual love
John Blow
Ah, Heav'n! What is't I hear?
Robert King
False, foolish Heart!
No; to what purpose
Walter Porter
'Tis but a frowne
When first I saw thee
I saw faire Cloris walk alone
Tell me Amintas
Tell me you starres
Henry Lawes
This mossy bank
As Celia rested in the shade
William Jackson
Love in thine eyes
Alfonso Ferrabosco
Fair cruel nymph
Tell me, o Love
What shall I wish?
Thomas Morley
Fire and lightning
Flora, wilt thou torment me?
Go before, my darling
Go ye, my canzonets
In nets of golden wires
Leave now, mine eyes, lamenting
Lo, here another love
Miraculous love's wounding
O thou art so cruel
Sweet nymph, come to they lover
When lo, by break of morning
John Danyel
Now the earth, the skies, the air
Robert Jones
At her fair hands
Disdain that so doth fill me
Farewell, fond youth
Hark! Wot ye what?
My complaining is but feigning
Now have I learned with much ado
Now let her change
Oft have I mused
On a time in Summer season
Once did I serve a cruel heart
Since first disdain began to rise
Sweet Kate
Through your strangeness
William Byrd
An earthly tree a heavenly fruit
German Baroque Duets
Johann Sebastian Bach
Bei Jesu Leben freudig sein ... Ich fürchte zwar des Grabes Finsternissen (BWV 66)
Wie selig sind doch sie (BWV 80)
Den Tod niemand zwingen kunnt (BWV 4)
So feiren wir das hohe Fest (BWV 4)
Unendlichster, den man doch Vater nennt (recitativo - BWV 173)
Christe eleison (Mass in B minor, BWV 232)
Domine Deus (Mass in B minor, BWV 232)
Et misericordia (Magnificat, BWV 243)
Nun komm' der Heiden Heiland (BWV 20)
Entziehe dich eilends, mein Herze, der Welt (BWV 124)
Barmherziges Herze der Ewigen Liebe (BWV 185)
Die Armut, so Gott auf sich nimmt
Gloria Patri (Gloria in excelsis Deo, BWV 191)
Flößt, mein Heiland (Passio secundum Joannem)
Nein, nein (Croesus)
Dietrich Buxtehude
Liebster, meine Seele saget
Nun freut euch ihr Frommen
French Baroque Duets
Sèbastien Le Camus
Fuyons cette rive charmente
Que ma bergère est belle!
Michel Monteclair
Les délices champestre
Johannes Ockeghem
Fors seulement
Operetta Duets
Johann Strauss
Ach, ich darf nicht hin zu dir (Die Fledermaus)
Nun's Chorus (Casanova)
Carl Zeller
Schenkt' man sich Rosen (Der Vogelhändler)
Jacques Offenbach
Belle nuit (Contes d'Hoffmann)
Lighter Classical (Italian Art Song Duets)
Gioacchino Rossini
La regata veneziana
Le gittane
Mi lagnerò tacendo
La pesca
O quanto son grati
Les Soirées Musicales
Péchés de vieillesse
Duetto buffo di due gatti (arr.)
Mercadante
La pesca (Les Soirées Italiennes)
La caccia (Les Soirées Italiennes)
Il brindisi (Les Soirées Italiennes)
Gounod
Barcarola
Stefano Donaudy
Amor s'apprende
Art Song (French, German, etc.) Duets
French Duets
Jules Massenet
Révons, c'est l'heure
Joie!
Le poéte et le fantôme
Les fleurs
Gabriel Fauré
Pleurs d'or (Op.72)
Puisq' ici-bas Op.10/1
Tarantelle (Op.10/2)
Ernest Chausson
La nuit Op.11/1
Réveil Op.11/2
Gounod
Barcarola
D'un coeur qui t'aime
La Siesta (Sous le feuillage)
Par une belle nuit
Deux vieux amis
Les Châteaux en Espagne
Chantez Noël
Fleur de bois
Les Jeunes Françaises
Déjà l'aube matinale
Memorare
3 Duets for 2 equal voices: 1. Dieu partout; 2. Le Travail béni; 3. La Fête des coronnes
Georges Bizet
Le Retour
Rêvons
Les Nymphes des bois
Vocalise for 2 sopranos F major
Camille Saint-Saëns
Les cygnes
Pastorale
Ave Maria
Leo Delibes
Les trois oiseaux
Edouard Lalo
Au fond a des halliers
Dansons!
Le prisonnier - Pauline Viardot-Garcia
Hector Berlioz
Le Montagnard exilé
Pleure, pauvre Colette
Sara la Baigneuse.
Le Trébuchet
Cécile Chaminade
Angelus
Barcarolle
Duo d'etoiles
Spanish Art Song Duets
El desdichado - Saint-Saëns
Boléro - Saint-Saëns
Habanera - Pauline Viardot-Garcia
La siesta - Gounod
Maravilla nunca vista - de Falla
Finnish
Jean Sibelius
Tanken
Russian
Pitor Ilyich Tchaikovsky
1. Evening
2. Scottish Ballad (Shotlandskay ballada)
3. Tears (Slezi)
4. In the garden near the ford (V ogorode, vozle brodo)
5. Passion spent (Menola strast')
6. Dawn (Rassvet)
Cesar Cui
7 Songs & Duets Op. 19
Nikolay Andreyevich Rimsky-Korsakov
2 Duets Op. 47: Pan / The Song of Songs Op.47 (Pan / Pesnya pesen)
2 Duets Op. 52: The Mountain Spring / Angel and Demon (Gornïy klyuch / Angel i Demon)
Dragonflies Op. 53 (for 3 voices, arr. 2 voices) (Strekozï)
Czechoslovakian
Antonin Dvorak: Moravian duets
A já to uplynu
Dyby byla kosa nabrósená
Holub na javore
Humoreske (arr.)
Slavikovsky polecko maly
Vdobrym sme se sesli
Velet', vtácku
Voda a plác
Leo Janacek
26 Folk Ballads in various forms
Nase vlajka (Our Flag)
German
Johannes Brahms
Am Strande
Die Boten der Liebe
Guter Rat
Hüt du dich
Jägerlied
Klänge I
Klänge II
Klosterfräuline
Die Meere
Phänomen
Die Schwestern
Walpurgisnacht
Weg der Liebe I
Weg der Liebe II
Robert Schumann
In der Nacht (Spanische Lieder)
Er und Sie Op.78
Ich denke dein Op.78
Wiegenlied am Lager... Op.78
Tanzlied Op.78/1
Liebesgarten Op.34
Liebhabers Ständchen Op.34
Unterm Fenster Op.34
Op.138. post. (duet)
Franz Schubert
Nur wer die Sehnsucht kennt D.877
Felix Bartholdy-Mendelssohn
Abendlied
Abschiedslied der Zugvögel
Das Aehrenfeld
Gruss
Herbstlied
Hymn of praise. I waited for the Lord
Hymn of praise. My song shall be always Thy mercy
Ich wollt' meine Lieb!
Lied aus 'Ruy Blas'
Maiglöckchen und die Blümelein
Psalm 95. Come let us sing. In his eyes
Psalm 115. Not unto us, O Lord. House of Israel O trust in the Lord
Sonntagsmorgen
Volkslied
Wasserfahrt
Wie kann ich froh und lustig sein?